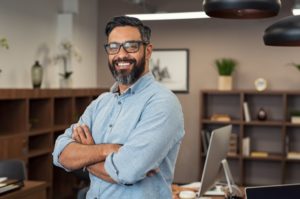 Are you missing one or more of your pearly whites? If so, you may be thinking about dental implants. Considered the gold standard of restorative options, this procedure replaces the entire structure tooth, from root to crown. It promises stability and longevity for a complete, lifelike smile. But as with most procedures, there will be necessary recovery time. Read on to learn more about the recovery period and when you can expect to return to work!
How Long Will It Take to Recover from Dental Implant Surgery?
The amount of time needed to recover from dental implants surgery will vary for everyone. The average time to return to work and your regular activities would be 48-72 hours. Yet, there are several factors that could extend this time, such as:
The number of implants: Naturally, the more implants the more days at home you may need.
Bone grafting: Sometimes extra bone tissue needs to be added to the implant site so that your jaw can support the titanium posts. This will require a bone graft, which may increase the amount of time you need to recover.
Certain medical conditions: If you have certain medical issues, like diabetes or rheumatoid arthritis, the healing process can take a little bit longer. Your immune system may need extra time to help your mouth recuperate from the procedure.
Compliance with post-operation instructions: You'll be given instructions for taking care of your implants and the rest of your mouth following the surgery. By following these directives, you can keep the recovery process on track so that you can return to work all the sooner.
Why Is Your Healing Period Essential?
For your implants to be fully functional, they'll need to bond with your jawbone through osseointegration. This is essentially when the titanium rods fully integrate and become a part of your gums and jaws. Taking the time to rest and recuperate for at least a few days after the surgery is important as your bone tissue becomes one with the metal posts.
Tips for Recovering from Dental Implant Surgery
These helpful tips, along with your dentist's instructions, will help make your recovery period be as smooth as possible:
Maintaining a clean mouth, as directed by your dentist
Eating soft foods, such as yogurt, applesauce, or pudding
Drinking plenty of water
Avoiding exercise
Refraining from smoking or other tobacco products
As you can see, getting dental implants is a journey that takes a bit of your time, but it is well worth it. If you follow the recovery process recommendations from your dentist, you can count on a complete smile for years to come!
About the Author
Hanover Road Dental Health serves Lebanon and its surrounding communities through the expertise of its team of dentists. By valuing your time while providing personal care, they can help you to achieve the smile of your dreams! To help our patients achieve the complete, healthy smiles they deserve, we partner with local dental implant specialists for a successful treatment and minimal recovery time. If you are missing one or more teeth and would like to learn more about dental implants, contact them through their website or call (603) 643-4362.