Replace Missing Teeth – Lebanon, NH
A New Smile You Can
Rely On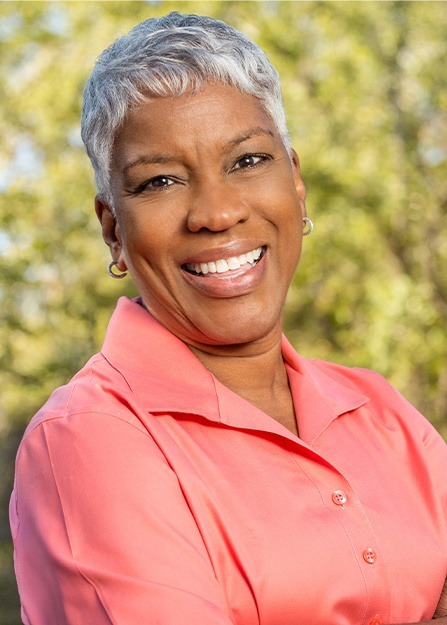 Did you just lose one tooth in an accident? Or is an entire arch gone thanks to gum disease? No matter how extensive your tooth loss is, Drs. Sanders and Munsey have the answer. The prosthetics our dental office can provide will fill in the gaps in your grin no matter how big they are, and they'll continue to perform all the necessary functions that you would normally rely on your natural teeth for. Get in touch with us today to schedule a consultation and discover which option for replacing missing teeth in Lebanon, NH is right for you.
Why Choose Hanover Road Dental Health to Replace Missing Teeth?
Custom-Made Restorations
Individualized Care from Skilled Dentists
Suggesting Only What You Need
What Happens if
I Do Nothing?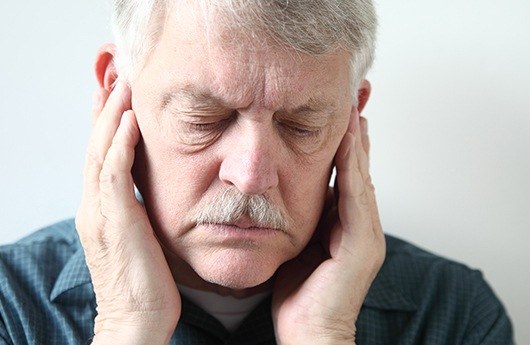 Every tooth has a role to play in your mouth, and you'll run into problems no matter which one you lose. The remaining teeth will gradually move into the empty space, eventually throwing off the balance of your bite. That in turn leads to difficulties with chewing, speech issues, and unnaturally fast wear and tear of your remaining teeth. Also, without teeth, the jaw will start to break down and will no longer be able to support the muscles in your face, leading to a sunken, aged appearance.
Dental
Bridges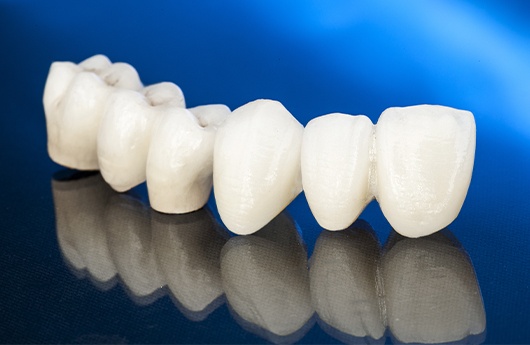 Check the teeth next to the gap in your smile. Are they still healthy and intact? If they are, then the empty space can be filled using a dental bridge. Made up of an appropriate number of prosthetic teeth, a bridge has two crowns on the end that use healthy teeth (called abutment teeth) as anchors. Bridges are normally recommended for single tooth loss, but depending on the circumstances they may also be able to replace two or more teeth at a time.
Learn More About Dental Bridges
Dentures &
Partial Dentures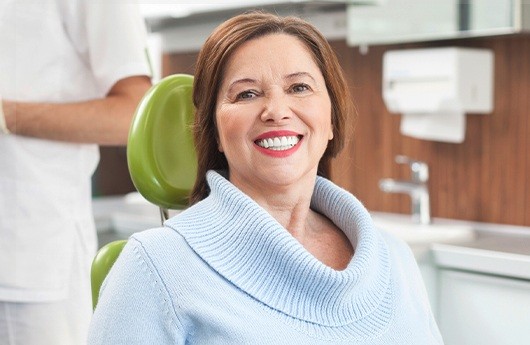 While a bridge is a useful way to replace several teeth in a row, partial dentures can fill in gaps spread throughout your mouth. This type of restoration is held in place by metal clasps, and it needs to be customized in order to replace the appropriate number of teeth. Of course, if all of your teeth are missing, your best option will be full dentures. These tried and true prosthetics consist of a complete row of dazzling prosthetic teeth as well as a natural looking base that can be held in place by natural suction of the gums.
Dental
Implants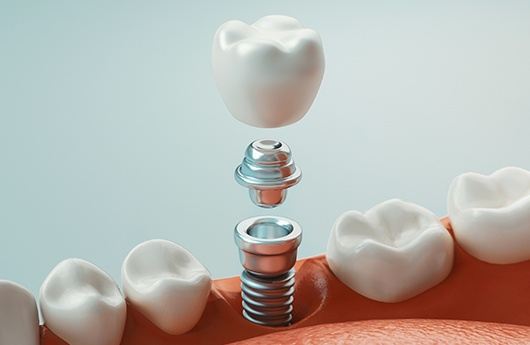 Bridges and dentures are useful on their own, but they become even more beneficial once they've been attached to dental implants. Thanks to these metal "roots", your new teeth will stay in place and allow you to comfortably eat all your favorite foods again. Also, since implants essentially become part of your jaw, they feel much more natural than other restorations, and they'll help keep the underlying bone healthy through the stimulation of chewing.