Veneers – Lebanon, NH
Invest in a Beautiful, Confident Smile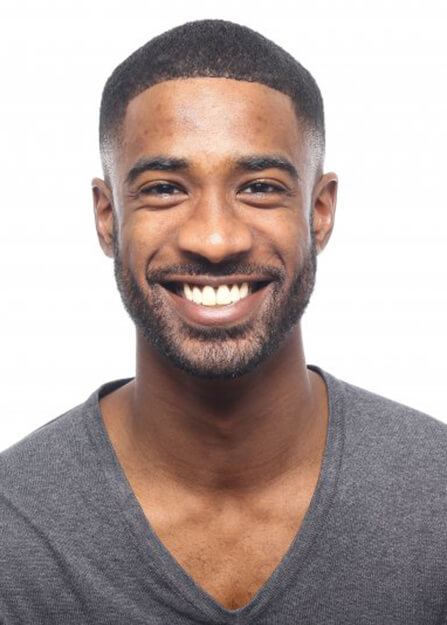 Have you spent the past few years feeling insecure about your imperfect smile? If so, you're far from the only one. In fact, it's estimated that two-thirds of Americans aren't satisfied with the way their teeth look. Whether your flawed smile is due to genetics, dental trauma, or poor oral hygiene, we can easily address those cosmetic concerns. With a little treatment called veneers, our dentists here at Hanover Road Dental Health can help you kiss imperfections like chips, cracks, and stains goodbye. Keep reading below to learn how veneers in Lebanon, NH are the perfect way to you to invest in a beautiful, confident smile.
Why Choose Hanover Road Dental Health for Veneers?
Correct Multiple Dental Flaws in One Treatment
Experienced Dental Experts
Can Last More Than a Decade
What Are Veneers?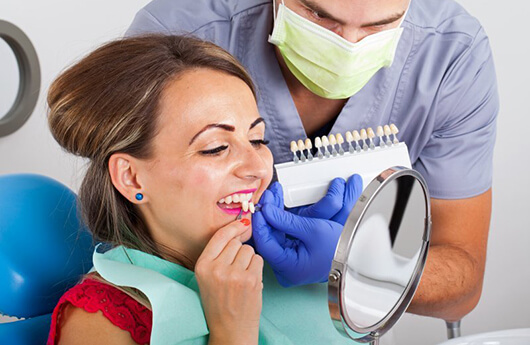 Veneers are thin, custom-made shells made of dental porcelain. This material is used for a variety of reasons, mainly its durability and ability to mimic tooth enamel to the point where onlookers shouldn't be able to tell your veneers aren't natural. These shells are bonded to the front-facing surfaces of your teeth, so they have the potential to mask virtually all of a tooth's flaws at once. Each veneer is custom-made based on impressions taken of your mouth, so you can rest easy knowing your pearly whites will still look perfectly natural.
What Problems Can Veneers Fix?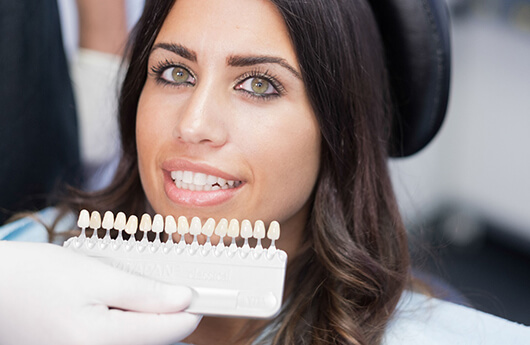 As one of the most versatile cosmetic dentistry treatments available today, veneers are able to correct a wide variety of issues, such as:
Stubborn stains or discoloration
Cracks or chips
Abnormally shaped teeth
Short or stubby teeth
Minor gaps between teeth
Slightly crooked or rotated teeth
Benefits of Veneers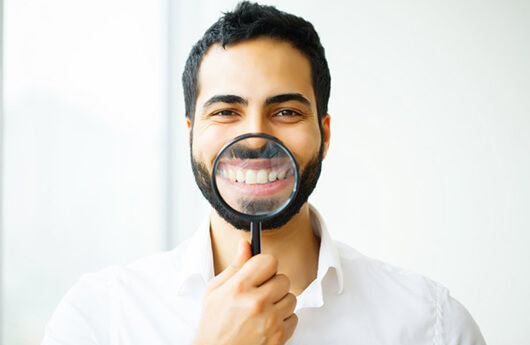 While we offer several cosmetic treatments to help you achieve your dream smile, many of our patients choose veneers for several reasons, including:
Conservative treatment because less enamel must be removed than when placing dental crowns
Natural-looking results
Several problems corrected in just one procedure
Results that can last a decade or longer with the right aftercare
Incredibly high resistance to stains
What Can You Expect During the Procedure?
After your initial consultation with your cosmetic dentist in Lebanon, where we'll decide whether veneers are the right treatment for your smile, placing these restorations generally takes two appointments. At the first of these visits, we prepare your affected teeth by shaving off the outermost layer of enamel. This step ensures your veneers don't bulge out unnaturally in your smile. Once the teeth are prepped, we take impressions, using them to create a mold that we send to our partnered dental lab. From there, a team of professional ceramists will painstakingly craft your veneers to our exact specifications.
In the meantime, we can place temporary veneers over your teeth to both protect them and allow you to essentially take your new smile for a test drive. A few weeks later, when your permanent veneers are delivered to our office, you'll return for a second appointment, during which we'll replace your temporaries. You'll walk out of our Lebanon office with a new smile you can't wait to show off!
Are you ready to completely transform your smile with just one treatment? Then contact Hanover Road Dental Health today and ask about veneers. It could be just the thing you need to really take your smile to the next level!
Veneers FAQs
If you're unhappy with the appearance of your teeth, veneers in Lebanon can give you the picture-perfect smile you desire. Although you're excited to start the transformation process, we know you have a few concerns before you're ready to commit to it. We'll explain everything during your initial consultation. To help ease your apprehensions, here are the answers to a few of the most common questions patients ask us about veneers.
How many veneers will I need?
A veneer can be applied to a single tooth; however, we often recommend placing them on the front 2, 4, or 8 teeth. It helps to create a seamless transition between the veneers and your enamel. After performing a thorough consultation and learning more about your goals, we'll explain how many veneers you'll need.
Will veneers make my teeth sensitive?
Often, veneers require a small amount of enamel to be removed during the bonding process to ensure they sit flush. Since veneers are thinner, less of your enamel is removed; however, it's normal to be concerned about any possibility for tooth sensitivity. You might experience slight discomfort after the veneers are initially placed on your teeth, but it will subside within a few days. In some cases, veneers can help patients who have a history of sensitive teeth because they provide an added layer of protection between your enamel and the foods and drinks you consume.
How long do veneers last?
Modern veneers are very thin, but they are more durable than ever. It's not uncommon for them to last for a decade or longer before needing to be replaced. There are several things you can do to prolong the longevity of your new smile, such as:
Use a soft-bristled toothbrush and nonabrasive toothpaste.
Brush your teeth for at least two minutes in the morning and at night.
Use high-quality floss to clean between each tooth nightly.
Wear an athletic mouthguard if you play sports.
Don't chew on inedible objects.
Don't use your teeth as tools.
Visit your dentist at least twice a year for a cleaning and checkup.
How much do veneers cost?
There isn't a set cost for veneers because the fee is based on your individual treatment plan. Although veneers may be more expensive than other treatments, they can be more cost-effective if you need to correct several issues. Veneers can fix a variety of imperfections using one procedure to eliminate the need for multiple services. We'll provide you with an estimate during your consultation and discuss your payment options. We'll help you keep your dream smile within your budget.
Can I use my dental insurance to pay for veneers?
Every dental insurance policy differs, but most plans don't cover veneers because they are elective. There may be some exceptions depending on your unique situation. If applicable, we'll work on your behalf with your insurance company to file the necessary claim forms, so you have one less thing to worry about.