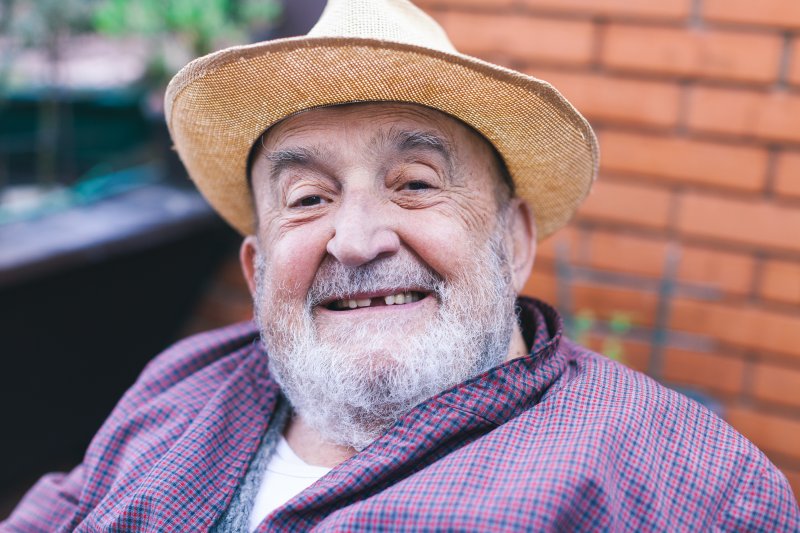 Lacking teeth is bad enough in the short term. Not only does the issue harm your smile's looks, but it also makes eating and speaking difficult. However, the truth is that tooth loss changes your face's shape over time too. Such alterations then cause you to look older than you are. Fortunately, dental implants prevent and even reverse this problem. Your Lebanon dentist will even tell you how! Here is a summary, then, of how tooth loss alters your face and how implants solve the matter.
Losing Teeth Weakens Your Jaw
As it turns out, losing teeth doesn't just affect your smile. The lack of pearly whites also harms your jaw.
You see, your jawbone needs stimulation to preserve itself. It loses that stimulus, though, when your teeth fall out. In the latter case, it will suffer bone loss near your now-empty jaw sockets. Unless treated, such erosion will then cause facial collapse — a condition that makes your face seem very old.
In particular, a facial collapse will cause the following changes:
Lower Facial Angles – Since losing teeth lowers the jawbone's height, it also lowers facial height. That change in angle causes then leads to a sunken or hallowed face.
Facial wrinkles – Changes in facial angulation also result in more vertical lines across your face, which greatly ages your looks.
Cheek jowls – When some of the jaw's bone is lost, it causes muscle ligaments to weaken. Weakened ligaments, in turn, allow for the sagging of facial tissue.
How Implants Fix the Problem
Unlike other restorations, dental implants restore smiles and maintain your face's shape. This dual ability stems from the treatment replacing both crowns and tooth roots.
It comes down to how implants fuse with your jawbone. While dentures or bridges only sit on your gums, dentists insert implants into the jaw. Bone tissue then grows around them once they're placed, a process called osseointegration. This fusion ensures the implants remain secure and provide the stimulus your jawbone needs. You can then count on your new teeth to help your face look young and firm!
In the end, dental implants can stop facial collapse before it even starts. Therefore, consider getting some from a local practice. Your dentist would likely be happy to restore your smile and youth!
About the Practice
Hanover Road Dental Health is based in Lebanon, NH. Led by its trio of wonderful, experienced dentists, our practice offers effective and friendly dentistry. To that end, we perform high-quality preventive, cosmetic, and restorative treatments, as well as dental emergency care. Our office is even adept at handling and placing dental implants! For more information or to book a visit, reach us on our website or by phone at (603)-643-4362.