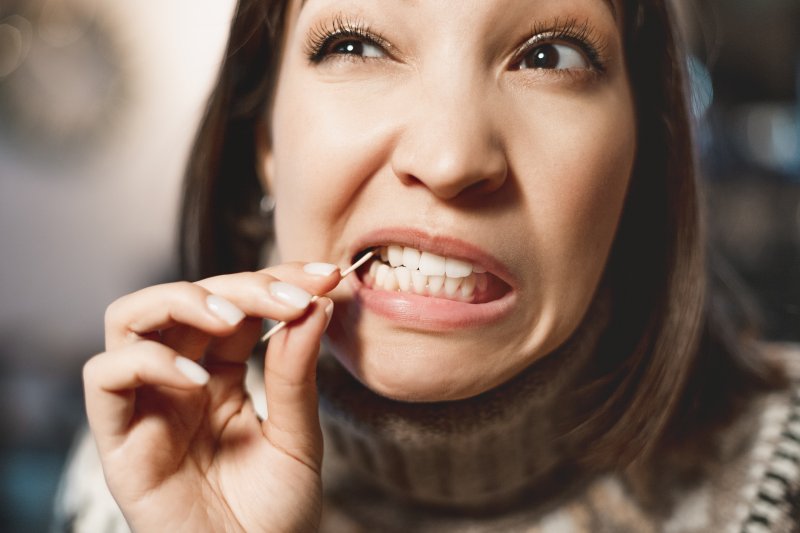 Having something stuck in your teeth is never fun. While the situation isn't that bad, all things considered, it's still uncomfortable and unpleasant. Many even consider it stressful due to how distracting it tends to be. That said, there are ways to solve the issue without a dental visit. In fact, you may be able to take care of it yourself. For those interested, here are four tips for removing an object stuck between teeth.
Remain Calm
Remember, you're not in a life-threatening situation; there's no need to panic or get worked up. Most of the time, a commonsense approach is all you need to remove the foreign object. Therefore, keep your cool to develop a safe and effective solution. If you don't, you'll give yourself needless anxiety and possibly do something that hurts your teeth or gums.
Rinse Your Mouth
Rinsing your mouth out with water could help dislodge the object. Even if it doesn't, it'll still soothe associated discomfort and wash away any blood near the affected area.
If you can, get someone to help you find the foreign item's location. That way, you'll know whether the rinse has made your view of said item clearer.
Gently Floss
Waxed dental floss is often the best way to remove things stuck between teeth. The wax on the string can lubricate the area and dislodge the foreign body.
If you take this step, though, you'll need to be gentle and not use much force. Otherwise, you could do more damage by tugging too hard or lodge the object further below the gum line.
In the event regular floss doesn't work, you could also switch to a floss pick or water flosser.
Push with Your Tongue
Fortunately enough, you already have a tool that could remove the object: your tongue. Use the latter to push the former and see if that helps.
At the same time, make sure you don't overwork the tongue. Doing so could cause jaw pain, TMJ issues, chewing problems, and even speech pattern problems.
As you can see, having an object stuck between your teeth isn't something to worry over. Try the tips above and, if necessary, visit your local dentist!
About the Practice
Hanover Road Dental Health is based in Lebanon, NH. The practice always strives to put patients first and accommodate client concerns. To that end, its staff offers excellent preventive, cosmetic, and restorative dentistry for all ages, not to mention emergency dental care. No matter the treatment, they'll ensure your natural mouth tissue is conserved. For more information or to book an appointment, reach them at their website or call (603)-643-4362.