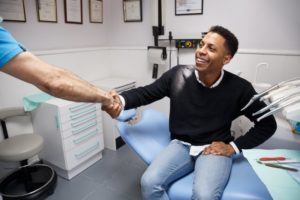 When you're faced with a dental emergency, staying cool, calm, and collected is much easier said than done. After all, handling a hurting or damaged tooth isn't exactly common knowledge for most people. Luckily, there's only one thing you need to remember to do in a dental emergency – call your dentist. Their team will take it from there by scheduling an appointment for you. The details will vary, but here's a basic idea of what you can expect during your emergency dental visit.
A Same-Day Appointment
The most important thing to do when a dental emergency occurs is to reach out to your dentist right away. Over the phone, a member of their team will ask you questions about your symptoms. From there, they'll let you know how quickly you'll need to come in and schedule an appointment for you accordingly. Some emergencies, like a knocked-out tooth, need to be addressed immediately, while others, like a slightly chipped tooth, can wait a day or two if need be. If your situation is the latter, your dentist's team can give you tips on managing your symptoms until your visit.
Keep in mind that most dentists build time into their schedules specifically for treating emergencies. So, if you need urgent attention, rest assured you'll be able to get it!
A Thorough Dental Exam
Once you arrive at your dentist's office, you'll be seen right away for an emergency dental exam. Instead of looking over your entire mouth like they would during a routine checkup, your dentist will focus on the specific area that's giving you trouble. That way, they can precisely identify the source of the issue. This exam might involve taking X-rays of that section of your mouth to pinpoint any problems that might not be visible with your dentist's eyes alone.
Swift Pain Relief
Often, dental emergencies are accompanied by pain, so your dentist will work to alleviate that promptly. Once they've determined the cause of the problem, they can recommend a course of treatment. If said treatment will need to be performed at a later date, your dentist can provide a solution to minimize any discomfort until then. You'll have a restored, healthy smile again before you know it!
By keeping the above information in mind, it should be easier to stay calm in a dental emergency. Of course, if you have any further questions, don't be afraid to get in touch with your dentist!
About the Practice
Our gentle, experienced dentists at Hanover Road Dental Health are proud to offer same-day emergency dental care in Lebanon, NH. We can handle various types of dental emergencies, so you can rest easy knowing that when accidents happen, your smile will be in good hands. If you need an emergency dentist right away, please contact our office by calling 603-643-4362.