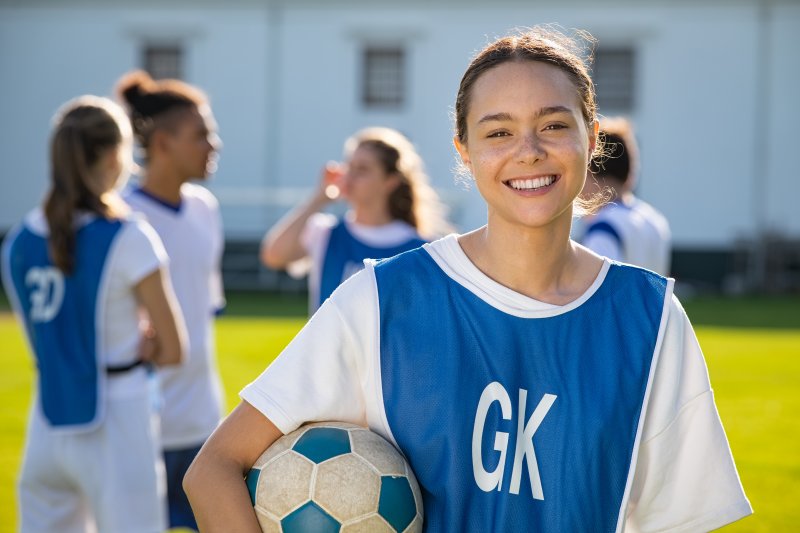 School is about to start! If your child participates in fall sports, then now is the time to help them prepare for a successful semester and season. Amid the hustle and bustle of organizing carpools and buying supplies, many parents forget one important thing: to get their child a mouthguard. After all, of the 30 million kids that participate in sports, only 41% use one. So, it's not hard to see why more than 5 million teeth are avulsed each year! Keep reading to learn more about why mouthguards are so important.
Why Your Child Should Have a Custom Mouthguard
All it takes is one rogue ball or one bad fall for your child to sustain a dental injury. This experience can be anxiety-inducing and painful, which is why it's important to practice proper prevention. That starts by getting them a custom mouthguard. While over-the-counter alternatives are better than nothing, their bulkiness can interfere with their breathing and don't provide the same level of protection. The good news is that their dentist can provide them with one that fits snugly, protecting their teeth and gums from an unintentional blow to their face.
Tips for Caring for Your Child's Mouthguard
Custom-made mouthguards can last for years with proper care. So, help your child keep theirs in pristine condition by enforcing the below best practices:
After each use, brush the mouthguard thoroughly with a soft-bristled toothbrush and toothpaste.
Avoid leaving the mouthguard in the sun or rinsing it with hot water. This can warp the shape, reducing its effectiveness.
Store the mouthguard in a storage case when not in use. (Buying a brightly colored one will help prevent it from getting lost).
Check the mouthguard regularly for jagged edges that could cut and irritate their gums, cheeks, and lips.
Bring it to each biannual checkup and cleaning. Their dentist can make sure it fits properly and provide them with a replacement if they grow out of it.
Your child's teeth help them smile confidently, chew properly, and speak clearly, so the last thing you want is for them to knock out a tooth. Fortunately, a custom-made mouthguard from their dentist will help prevent that from happening. That way, they can enjoy their fall sport of choice to the fullest!
About the Practice
Hanover Road Dental Health is where patients of all ages can enjoy compassionate, personalized, judgment-free dental care. Our team of exceptional dentists has joined forces to provide everything from thorough checkups and custom mouthguards to effective emergency dentistry – all at one convenient location! If you'd like to learn more about mouthguards or your child is overdue for their biannual checkup and cleaning, don't hesitate to visit our website or give us a call at 603-643-4362.